The Icon: Creating a sense of community and colour with expanded metal
The sun can present a huge problem for architects in Australia. Fortunately, Locker Group have the solution. We make expanded metal to a variety of specifications in order to protect your building from the sun's harsh glare. The Icon, an apartment building in St Kilda, Melbourne, represents one of the most innovative and creative ways our product has been used. Here's why.
The Lego Tower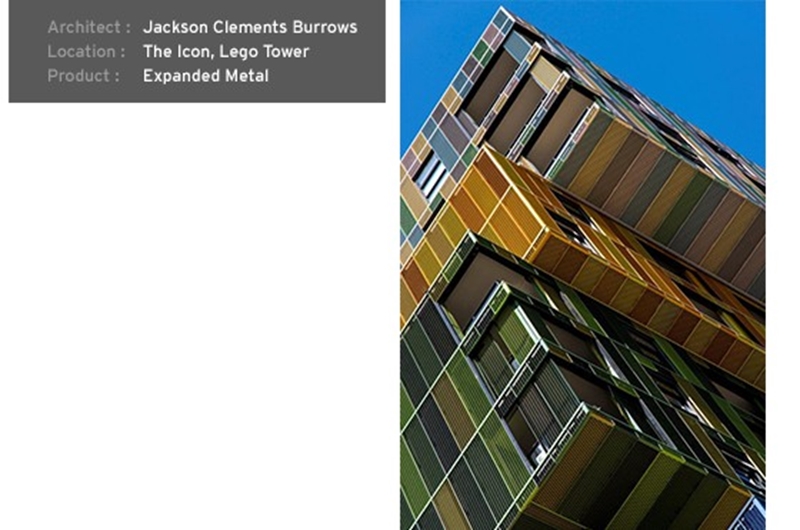 This amazing creation is the work of a collaboration between artist Matthew Johnson and architects Jackson Clements Burrows (JCB). It features six artfully balanced cubes, which are wrapped in several different colours of Locker Group expanded metal. As the sun moves over the sky, each piece of metal changes colour slightly, giving it a dynamic, playful quality.
While many think of metal as purely existing in different tones of grey and silver, The Icon is changing that perception. In fact, the building is also known as "The Lego Tower' due to its similarity to the coloured building blocks. Mr Johnson said the design was intended to brighten up an otherwise fairly "dead" area of St Kilda.
"Having visited and inhabited St Kilda through parts of my life, one can't help but feel there needs to be something … totemic or sculptural that is like a signifier to this neighbourhood," he told domain.com.au.
"Because you are creating this vertical habitat in that location, it's actually invigorating a whole site in an intelligent way rather than just building another faceless building."
A sense of community
The idea of the different boxes, according to Andrew Jackson, director of JCB, is to create a feeling of community, with each separate colour representing a different neighbourhood.
Expanded metal provides both an aesthetically pleasing and functional way to deal with the sun.
"It was a way of thinking about an apartment building not just as a singular entity but a collection of communities," he said to architectureanddesign.com. This must surely be something that architects of the future will take into account, as people try and move away from the traditional conception of tower blocks as lacking in community spirit.
As The Icon proves, expanded metal provides both an aesthetically pleasing and functional way to deal with the sun, by cutting out glare while still making the most of available natural light. It can be used above windows, entrances, walkways, or along the whole length of a structure. If you would like to use expanded metal for your project, please contact us.